Interview with Voyage Raleigh
Join us for an interview with Voyage Raleigh on the starting point of What She's Wearing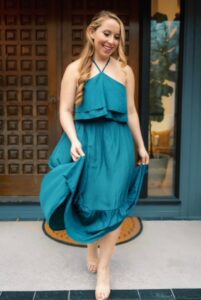 Today we'd like to introduce you to Rachel Adams.
Hi Rachel, so excited to have you with us today. What can you tell us about your story?
It all started while I was taking a business course in college. I was learning about all sorts of business-related things but during my downtime, I would online shop. I have a love for shopping and clothing. One day, while online shopping, I went down the rabbit hole.
I stumbled upon material about opening my own boutique and I became very intrigued because it would not only be a business of my own but it would involve something that I am extremely passionate about anyways. I have been in the dental field since 2010 and I truly enjoy my career more than I can say, but shopping and fashion also hold a place in my heart.
I decided that even though I am an endodontic assistant and love what I do, why not open a boutique online on the side as something that I am passionate about and also have fun with. As I started to learn about opening my own business and figuring out the logistics of it all on my own, I became obsessed with it. People around me could see my growth and my passion and also wanted to see me flourish. I can truly say, I love what I do. I love shopping and I love finding great clothing and accessories for my customers.
Knowing that I picked something out and they purchased it and they get to go home and feel great about it, is so rewarding to me. I have met so many people through starting my own business, and this is just the beginning. I cannot wait to see where I can take this company, who I will meet along the way, and how it will grow!
I'm sure you wouldn't say it's been obstacle-free, but so far would you say the journey has been a fairly smooth road?
This experience has definitely been a challenging one. Physically, financially, and mentally it has been a whirlwind. It has also been lonely. Although I have had extreme amounts of support, at the end of the day this business is my baby and I have had to nurture it along by myself. I am the content creator, the shopper, the customer service representative, the packaging department, and everything in between.
There have been stagnant moments in the business and my creativity has been stumped or even my motivation to move forward, but I am thankful for the people that I surround myself with because they do encourage me to remember why I started in the first place. I am sure that moving forward there will be many obstacles to jump over but I am ready for the challenge.
We've been impressed with What She's Wearing, but for folks who might not be as familiar, what can you share with them about what you do and what sets you apart from others?
What She's Wearing is my clothing business, the name was inspired by the fact that every time I go out and notice another woman, I always end up saying, "I love what she's wearing!" Anytime I see a "well put together" woman, I notice and I always end up asking, "where did you get your outfit?"
Compliments go such a long way for people and it's nice to spark up a conversation with someone and compliment them based on their appearance. Complimenting someone on their outfit can make a huge impact and I would love for "What She's Wearing" to represent confidence for all women.
What She's Wearing specializes in fun contemporary clothing and is a personal reflection of my taste and style in fashion. What sets me apart from others is my drive for fashion and finding the most current trends at an affordable price for all my customers. I strive to constantly use my passion to search for great deals for my customers to keep them looking and feeling their best.
I want for my boutique to inspire women, not only in the fashion realm but also that you can literally build anything you want from the ground up. I am the face of my business and I do not want to be just another big box store where the customer goes unnoticed.
I want to be someone that women can look up to and inspire them with my story and show them that anything is possible – with a cute outfit on.
Before we go, is there anything else you can share with us?
If you're reading this and found your way here, reach out to me! I'd love to meet you and answer any questions you may have.
I started What She's Wearing on my own and by doing my own research but also it would have been nice to meet other like-minded women who have started their own boutique and see the things they wish they would have known before starting their business.
It isn't always about competition, sometimes it's about helping other people and seeing each other grow.
Contact Info:
---